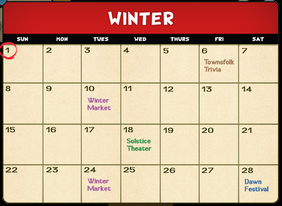 Seeds are sold at Sunflower Farm.
Name
Description
Price
Growth

Time

Wheat

Seeds

Woven satchel full of Caramel Wheat seeds.

To be planted year-round.

10C
9 Days
Foraging
Edit
Wild fruits, flowers and other consumables can be harvested all over Sugar Blossom.
Name
Description
Shipping

Price

Locations
Milky Snowdrop
Milk-white bulb resilient against the cold. Grows naturally in Winter.
??C
bottom of your house; behind Eyeglass Library; bottom of Wake's shop
Frosted Lavender
Hardy flowering plant a soft purple shade.

Grows naturally in Winter.

??C
Left of Ben's craftshop; Primrose Plaza; near Logan's house; Backwoods
Winterberries
Cluster of bright red holly berries. Wild Winter harvest.
??C
Left side of your house; Left side of Wake's shop
Ad blocker interference detected!
Wikia is a free-to-use site that makes money from advertising. We have a modified experience for viewers using ad blockers

Wikia is not accessible if you've made further modifications. Remove the custom ad blocker rule(s) and the page will load as expected.