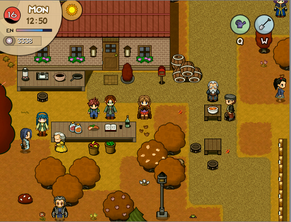 The Harvest Festival is an event that happens once a year.
Violet will remind about this event on the 12nd on morning. The festival will be held at Sunflower Farm. Bloom will also remind you on the morning of the 15th. It involves a cooking contest. Any villager who would like to enter must submit one main dish, one mixed beverage, and one serving of dessert on the day. Everything must be cooked or mixed fresh at the event..
Before starting the contest, you must talk to Petal to give her all your dishes, mixed beverages, or desserts. The one exception is Plain Cake, due to the recipe being bugged this counts as an ingredient rather than a prepared dish and Petal will not confiscate it. Then go ahead talk to Violet to start the contest. After finish participating in contest, don't forget to take your dish, dessert, or mixed beverages if you give them to Petal before participating the contest.
The victor of the contest receives a Power Blender (if they don't already have one) or an assortment of cooking supplies, including Fresh Eggs, Wholemeal Flour, Culinary Sugar, Vegetable Oil, and Cultured Butter if they already own a blender.
What to make
Edit
The dialogue recommends dishes and drinks appropriate for the fall season, made with fresh ingredients. Homegrown if possible. Any dish that includes pumpkin, onion, carrot and apple is likely to do well.
Sliced Carrot Casserole, Fall Onion Rings, Sizzling Stir-Fry, and Piping Stew all use seasonal ingredients and would be good for a main dish.
Hot Spiced Milk will be well-received as a drink, as it's warm on a cool, autumn day.
In your first year it's not possible to obtain Ol' Pumpkin Pie in time, but Apple Tea Cake works well as it uses Crispin Apples found only in autumn. Chewy Chocolate Cookies are also a good substitute, however these Cookies must be paired with Sliced Carrot Casserole and Hot Spiced Milk in order to win first place.
Guaranteed First Place: Sliced Carrot Casserole, Hot Spiced Milk and Chewy Chocolate Cookies
Guaranteed First Place:Sliced Carrot Casserole, Hot Spiced Milk and Festive Fruitcake.
Prizes:
1st: A cooking utensil you do not yet have. Eg. If you missed purchasing the frying pan through the Saturday Show you may receive this as your prize. If you have all kitchen utensils then your prize will consist of ingredients (butter, wholemeal flour etc.)
2nd: Ingredients
3rd: Ingredients