Crushed Herb
Type
Potable
Source
Foraging
Description
Edit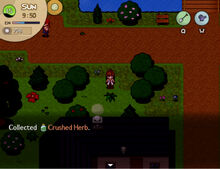 Crushed herbs are found all around the village. Using an empty Glass Bottle to fill it up with crushed herbs.The herbs look like leaves from a palm tree or as shown in the picture.
Ingredient For
Edit
Ad blocker interference detected!
Wikia is a free-to-use site that makes money from advertising. We have a modified experience for viewers using ad blockers

Wikia is not accessible if you've made further modifications. Remove the custom ad blocker rule(s) and the page will load as expected.